Model Seder
Model Seder
Spring has finally arrived, and Passover begins this Friday night. For those who weren't able to make it to the Model Seder on Sunday, here is a link to the excellent haggadah written by our b-mitzvah class and illustrated by the younger children.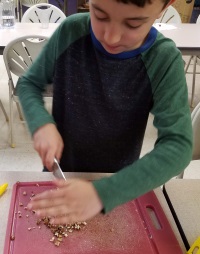 Because there were so many students away due to spring break, we will be filming the Maggid portion of the seder at Masa on Friday, April 26. Parents are welcome to join us (specific time TBA), and we will share a link to the video.
Please make sure to scroll to the bottom of posts to see the calendar of upcoming events!
On Friday, we made charoset and considered other questions the students had about Passover. They wondered why G-d didn't just take the Hebrew people out of Egypt without all of the business about the plagues, why they had to gather manna in the desert rather than having someone followed by a well of food, why the youngest person is in charge of asking the questions, and whether we are allowed to eat grain-free bread on Passover. (And many other questions!). They also made what one person said was "the best charoset I've ever eaten!"
On Sunday, we began by celebrating spring. The youngest students went on a nature walk to find signs of spring around BHA while the older students made decorations or spent time learning a little more about Passover.
Then we had the model seder. Our b-mitzvah students are definitely becoming young adults, and they led a seder that was interesting, thoughtful, and thoroughly enjoyable. I hope you parents are proud of them, and I know I'm honored to help teach them!
Coming up: no Masa this weekend, April 19-21. Have a good Passover!
Tue, July 23 2019
20 Tammuz 5779
Today's Calendar
---
Upcoming Programs & Events
---
Parshat Pinchas
Candle Lighting
Havdalah
Motzei Shabbat, Jul 27, 9:09p
Shabbat Mevarchim
View Calendar
Tue, July 23 2019 20 Tammuz 5779