Living With Rules
Living With Rules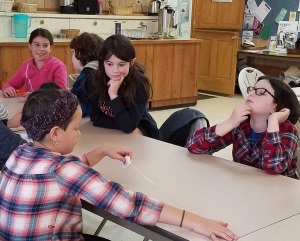 Last week's Torah portion was full of rules for how the Hebrew people should live. We spent a lot of time talking about rules: why we have them, who makes them, when to follow them. The students had quite a lot to say on this topic!
Our third through fifth grade students took some more time to discuss issues they are concerned about in the world, and several of them wrote notes urging us to contact our political representatives, or other people who make decisions in the world. Keep an eye out for the postcard station in the social hall to learn more about these issues!
All of the students spent time learning some Hebrew: The kindergarteners learned to write some letters of the aleph-bet, the first through fifth grade students learned the Hebrew words for parts of their bodies, and the oldest students learned trop (or tunes for singing Torah).
This week, the Torah turns to a detailed description of how to build the Tabernacle. We will be discussing what it means to make a holy space, and I will work with the Friday students to create a web of questions for all of the students to respond to in their journals on Sunday.
Coming Up:
Friday, February 8:
Masa: 4:00-6:00
Stories with Rabbi Brent: 4:30-5:00
Mini Minyan: 5:30-6:00
Kiddush and Community Potluck: 6:00
Shabbat Services (all ages): 7:00
Sunday, February 10:
Masa: 9:30-12:30
Friday, February 15-Sunday, February 17: No Masa (Presidents' Day Weekend). Wendy and I will be attending the Limmud Conference in New York City. I encourage folks to check it out!
Thu, June 27 2019
24 Sivan 5779
Parshat Sh'lach
Candle Lighting
Havdalah
Motzei Shabbat, Jun 29, 9:24p
Shabbat Mevarchim
View Calendar
Thu, June 27 2019 24 Sivan 5779