First week of MASA!
09/12/2018 04:14:14 PM
| | |
| --- | --- |
| Author | |
| Date Added | |
| Automatically create summary | |
| Summary | |
Masa started this past weekend, and I'm excited to see kids we've known for years, as well as some new faces in every class!
On Friday, the oldest children worked together to learn some songs to lead on Rosh Hashanah, and they planned out how we will paint a piano for the Keys to Beacon program with Beacon Arts. The piano the Masa children paint this weekend will be placed in Polhill Park, very close to where our sukkah will be for Open to the Sky during Sukkot. Make sure to plan some time for a visit to the sukkah so that you can admire your childrens' collaborative work!
On Sunday, even I was surprised by how many children we have in Masa this year (and I knew how many children had registered)! I'm thrilled to have so many new faces, and I encourage families to connect and re-connect with friends both old and new. We invite parents to a meeting on Sunday, September 16 at 12pm at BHA. We will be done by 12:30, in time for you to pick your children up at the end of Masa. If you can't make it to the meeting, please be in touch with our new Parent Coordinator, Leilah Dione Ezra.
We've also got some new faces among the teachers: Danielle Shimshoni will be teaching Hebrew Through Movement and Hebrew more generally. Alexander Ullian has been promoted from volunteer assistant to co-teacher of Judaic studies for grades 1-4. Marnie Klein is our other teacher of Judaic studies for grades 1-4. And Wendy Gross Alexander is returning as the teacher of our youngest children!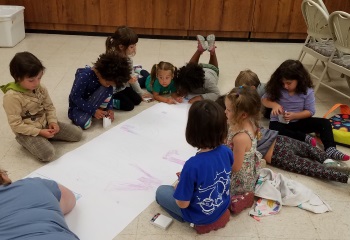 For the month of September, we are focusing on the Jewish holidays. Last week, we discussed the themes of the Days of Awe, including T'shuvah (atoning for our sins), T'fillah (prayer), and Tzedakah (giving from what we have to those in need). We also learned that Jews believe Rosh Hashanah is the world's birthday, and we had a short celebration of that on the first day of Rosh Hashanah!
This week, we will be focusing on Yom Kippur, but we will also be helping to paint a piano. Please send your children to Masa in clothes that they can wear while painting. I will try to have some smocks available, but I don't have enough smocks for all 37 children who are enrolled in Masa this year!
Journal Prompt: I will be providing Sunday's journal prompt each week in advance for children who prefer to spend some time thinking about it before they arrive at Masa on Sunday morning. I encourage parents to discuss each week's topic with their children.
For the week of September 16, the prompt will be: The Hebrew word for "sin" actually means "missing the mark." Everybody makes mistakes sometimes. Write about a time you made a mistake. What did you do after you made a mistake? What do you wish you could do after making a mistake?
Wishing a sweet new year to each of you!
--Julia Gross Alexander
Mon, August 3 2020
13 Av 5780
Mon, August 3 2020 13 Av 5780